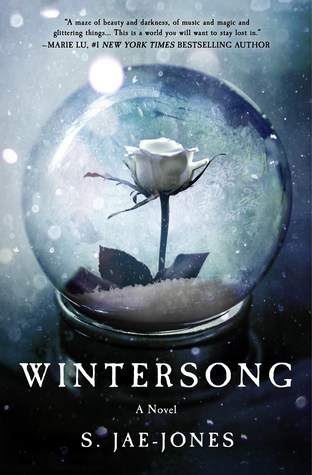 Blurb
The last night of the year. Now the days of winter begin and the Goblin King rides abroad, searching for his bride….

All her life, Liesl has heard tales of the beautiful, dangerous Goblin King. They've enraptured her mind and spirit and inspired her musical compositions. Now eighteen and helping to run her family's inn, Liesel can't help but feel that her musical dreams and childhood fantasies are slipping away.

But when her own sister is taken by the Goblin King, Liesl has no choice but to journey to the Underground to save her. Drawn to the strange, captivating world she finds–and the mysterious man who rules it–she soon faces an impossible decision. With time and the old laws working against her, Liesl must discover who she truly is before her fate is sealed.

Dark, romantic, and powerful, Wintersong will sweep you away into a world you won't soon forget.
---
My Review
***5+++ Stars!!!***
*ARC provided via Netgalley in exchange for an honest review
THIS BOOK WAS EVERYYYYYTHHHHIIIIINNNGGGGG!!!!! It's easily one of my favorite books of the year.

The romantic and seductive writing pulled me in right from the first sentence. S Jae-Jones was born to write and tell stories. I think I just found my author soulmate! I got serious Phantom of the Opera vibes while reading this, which is one of my all-time favorite musicals sooooooo yeah. You could say I'm slightly obsessed!
THE GOBLIN KING?!?!?!?!?!?!?!?

THAT MAN COULD TAKE ME TO THE UNDERGROUND ANY DAY, NO QUESTIONS ASKED. I WOULD FOLLOW HIM STRAIGHT TO HELL. I loved him so much it drove me insane. Everything that came out of his mouth had me either swooning, laughing, crying, etc. He is my newest book boyfriend. I am obsessed with him and I want to marry him. He was seriously so freaking cute. He tried to be this mysterious brooding man but he was really the softest lil cutie.

And f*cking Elisabeth???????? She could slap me and I would say thank you.

I. LOVED. HER. She is amazing and you will fall in love with her. She learned a lot about herself and how to love herself over the course of the book. Watching her realize her worth and her skill made my heart so full! She is That B*tch. Period. This woman had a temper tantrum and tore her room apart because the Goblin King wouldn't sleep with her. She destroyed her wedding gown to write a song on it. I stan forever.
The sass these two characters exhibited had me dying. EVERY WORD IN THIS BOOK WAS PERFECT AND PERFECTLY TIMED.
"And me? Am I lovely?"
"You are in a mood tonight, my dear."

This book got me out of my reading slump and I will forever buy books from S. Jae-Jones. She's one of my new favorites. Welcome to my list of favorite authors, miss JJ ❤
Genres
Young Adult
Fantasy
Romance
---
*

ADD

 Wintersong on GOODREADS
*

PURCHASE

 Wintersong HERE
---
About The Author
S. Jae-Jones, called JJ, is an artist, an adrenaline junkie, and the NYT bestselling author of Wintersong.
Born and raised in sunny Los Angeles, she lived in New York City for ten years before relocating down to Dixie, where she is comfortably growing fat on grits and barbecue. When not writing, she can be found rock-climbing, skydiving, taking photographs, drawing pictures, and dragging her dog on ridiculously long hikes.
Stalk Her!
---