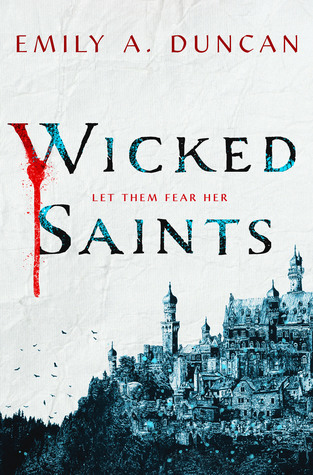 A girl who can speak to gods must save her people without destroying herself.
A prince in danger must decide who to trust.
A boy with a monstrous secret waits in the wings.
Together, they must assassinate the king and stop the war.
In a centuries-long war where beauty and brutality meet, their three paths entwine in a shadowy world of spilled blood and mysterious saints, where a forbidden romance threatens to tip the scales between dark and light. Wicked Saints is the thrilling start to Emily A. Duncan's devastatingly Gothic Something Dark and Holy trilogy..
---
Publication Date:

April 2nd, 2019
Genres:
Fantasy
Young Adult
Romance
---
My Review
***

5+++Stars

***
*ARC provided via Netgalley in exchange for an honest review
I don't know how to write this review. This book destroyed me in the best way possible. Emily A. Duncan is serving us some SERIOUS enemies-to-lovers content and I devoured every sentence.
The people of Tranavia and Kalyazin have been in a war for centuries and they hate each other. Nadya is a cleric from Kalyazin. She gets her powers from gods and goddesses and is very religious. Malachiasz is a blood mage from Tranavia. Nadya and Malachiasz (Madya? Can we call them Madya?) are sworn enemies. She hates him. She calls him a heretic and an abomination. She says his form of magic is heresy. It's fantastic. NADYA HATES MALACHIASZ. SHE CAN'T STAND HIM BECAUSE OF WHAT HE IS THEY HAVE SO MUCH SEXUAL TENSION AND I CANNOT GET OVER HOW MUCH I LOVE THEM AND HOW OBSESSED I AM WITH THEM THEY ARE LITERALLY SO FREAKINGCUTE. They are my new favorite OTP. I am 100% rooting for them. I love them. I love them. If you are a fan of Alina & The Darkling and Jude & Cardan you will LOVE this pairing. They're outstanding. At one point, Nadya literally tries to throw Malachiasz off the stairs AND THEN THEY MAKE OUT. Like I said, ENEMIES-TO-LOVERS REALNESS!
Keep in mind that there is a lot of blood in this book. A lot. Tranavians use blood magic so it comes with the territory. I'll list more content/trigger warnings below. As well as getting Nadya's POV, we also get Serefin's. The High Prince of Tranavia. The three main characters basically set out to kill the king of Tranavia (Serefin's father) and there's betrayal, and magic, and betrayal, and forbidden romance and betrayal, and epicness and awesomeness, oh and there's some betrayal.
I LOVED this book. I LOVED THIS BOOK. It had that whole gothic vibe going on and all the characters were a bunch of adorable little idiotswho I love with all my heart and I would kill and die for them. I was much more interested in Nadya's POV because she's a badass (and Malachiasz was there) and I didn't really connect with Serefin till the last half of the book. I still loved him, it's impossible to dislike any of these characters, but Nadya was just THAT good. I keep going back and reading chapters because I'm so freaking obsessed with this book it's actually ridiculous.
My heart was torn out and ripped to shreds and this book is taking over my life and I can't wait for it to come out so you can all suffer beautifully with me. I am not going to shut up about this book. It's all I've been talking about on Twitter for days. (Did I mention I love this book?) I need more of Nadya and Malachiasz, and Serefin RIGHT NOW. I am so mad at this author for what she has done but I also love her for what she's created.
TL;DR: This is my favorite book.
Content/Trigger Warnings
Cutting (for blood magic purposes
War themes
Torture
Murder
Violence
Mention of self-harm
---
*

ADD

Wicked Saints on GOODREADS
*

PURCHASE

 Wicked Saints on
---
About The Author
Emily A. Duncan was born and raised in Ohio and works as a youth services librarian. She received a Master's degree in library science from Kent State University, which mostly taught her how to find obscure Slavic folklore texts through interlibrary loan systems. When not reading or writing, she enjoys playing copious amounts of video games and dungeons and dragons. She is represented by Thao Le of the Sandra Dijkstra Literary Agency
Stalk Her!
---